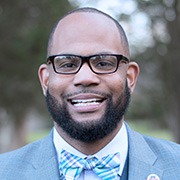 Cleveland L. Horton II is the founder and principal agent for The Homes By Horton Group of Keller Williams Realty Centre. Cleveland is a native of the Baltimore area. Mr. Horton has over 14 years of experience in the field and has been instrumental in crafting and enforcing most of the state's existing Fair Housing Laws. Cleveland is passionate about giving back to the community through educating potential buyers about the home buying process. Cleveland specializes in representing clients in the purchase and sale of single-family residences, investment properties, and rentals in the Maryland area.
Cleveland works hard to always stay on the cutting edge with the latest Real Estate Technology. He has the drive to always be on top of the latest real estate knowledge to keep his clients equipped with the most up to date product whether it be for his buyers or sellers! Cleveland and his team are recognized locally as true Real Estate Professional Leaders. Cleveland's services include Buyer/Seller representation in Foreclosures, Short Sales, Fair Market Sales, Multi-Units, New Construction, Town-Homes & Condos, Luxury & Executive Homes, Multi-Apartments, Lots & Lands, Builders and Developers, Exchange and Leases.
If you are in the market to buy or sell a home, create an investment portfolio, and/or looking for property to rent, Cleveland will put his experience to work for you!!

Save your recommendations for later.
Get access to our Financial Incentives Tool.
Connect with a Live Baltimore staff member for a one-on-one consultation.
Get a free I ♥ City Life bumper sticker.