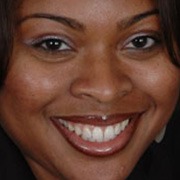 I Love Baltimore. Being a resident of Baltimore my entire life, I have been privileged to witness it evolve into the greatness it was intended to be. There are so many neighborhoods that has its own stamp of personality and homes that were uniquely built with such intricate details and characteristics that you can't help but to appreciate its overall design.
Every time I enter a home, I search for beauty in it, covered and uncovered. Even those that need a little love and care…I see the potential. I've been a Real Estate agent in Maryland for over 10 years. My paradigm epitomizes integrity, hard work, creative services and a load of energy in every detail of the real estate transaction.
I am an enthusiastic member of the community. I value the importance of being active in the communities which we live while providing community awareness. Ethics, experience, and expertise is some ways I choose to pay it forward. My paradigm is to put the people before the agent in every real estate transaction by providing consistent communication, strong attention to detail and ensuring a positive experience to all involved. This approach allows me to work every aspect of the industry, representing buyers, sellers, investors and also working with banks in the residential market.
I know what it takes to successfully close a real estate transaction making the buying/selling experience delightful and seamless. I would love for the opportunity to create your experience with you!
Save your recommendations for later.
Get access to our Financial Incentives Tool.
Connect with a Live Baltimore staff member for a one-on-one consultation.
Get a free I ♥ City Life bumper sticker.