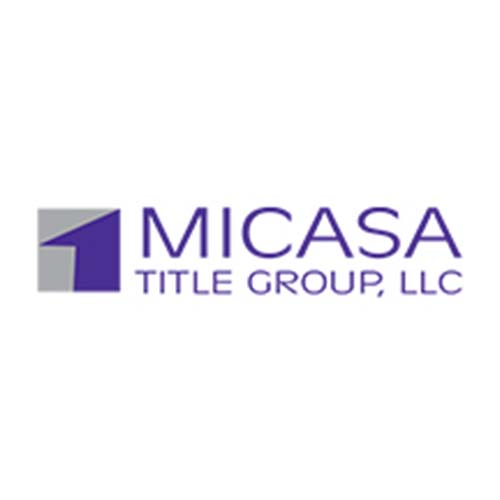 Micasa Title is a full-service real estate title and escrow company that conducts closings for the sale and refinance of residential and commercial properties. The firm provides closing and title services to consumers and real estate professionals, including the nation's top mortgage lenders, real estate agents, and developers in Maryland, Washington, D.C., Pennsylvania, New Jersey, Rhode Island, Virginia and Florida. The attorneys at Micasa have more than 90 years of combined experience in the title industry.
Their experienced and friendly staff goes above and beyond when helping to resolve title issues. If they find a title problem with your property, they will do everything possible to help you solve the problem and proceed with your real estate transaction.  Micasa Title works with you every step of the way to answer questions and find a solution to your title problems.
Micasa Title has the ability to issue title insurance policies through several national underwriters, including First American Title Insurance Company and Westcor Land Title Insurance Company and are proud members of the My Home Program and Homes for Heroes.
Services
Licensed Settlement Officers & Attorneys
Escrow Accounts
Loan Document Preparation
Title Searches
Loan Closings
Title Transfers
Title Insurance
Notary Service
Title Searches
In order to transfer title and obtain a mortgage, a title search is required to ensure proper ownership.
Title Abstract (Full or Bring to Date)
Judgement Search
UCC Search
Settlements/Closings
The meeting between the parties of a purchase or refinance where the closing documents are signed.
Purchases
Refinances
2nd Mortgages (home equity, line of credit, etc.)
Commercial loans
Ground Rent Redemptions
Inter family transfers & deed preparation
Release preparation
Powers of attorney
Title Insurance
Micasa Title uses First American Title Insurance & Westcor as underwriters. The following may be issued at closing:
Lender's policy
Owner's policy
Enhanced or eagle policy

Save your recommendations for later.
Get access to our Financial Incentives Tool.
Connect with a Live Baltimore staff member for a one-on-one consultation.
Get a free I ♥ City Life bumper sticker.