5 City Lovers Who Found Their Perfect Home in Baltimore
Mar. 21, 2019
Trolley Tour
Live Baltimore's Trolley Tour is a homebuying incentive event and so much more! Trolley Tour participants have the chance to meet with real estate experts and community organizations, take a tour of Baltimore neighborhoods AND become eligible for downpayment and closing cost assistance toward the purchase of a home, anywhere in Baltimore City!
Our winter event wrapped up with 56 completed applications for the Buying Into Baltimore Incentive and a total of 30 lucky homeowners receiving the $5,000 incentive. Below, hear from just a few of the buyers who found their perfect home in Baltimore City!
"Room to grow" in Ashburton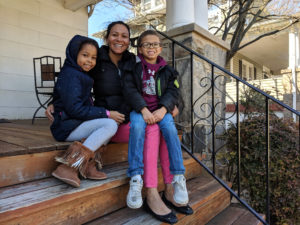 Ayana Bass-Meyers moved into their new home in the Ashburton neighborhood earlier this month with her husband, 7-year-old daughter and 5-year-old son. The family of four was living in a beautiful Little Italy rowhome that had become just a little too tight.
"We have outgrown our townhome downtown and wanted a detached home where the family could continue to grow," Bass-Meyers said of the family's new home. "We wanted to stay in the city, but we also wanted some grass, trees and a backyard for our children to play in and sidewalks to ride their bikes."
Their new home features three large bedrooms, a wraparound porch and a big backyard for the kids.
Bass-Meyers, who attended two Trolley Tours while researching the homebuying process, said she was drawn to the affordability of the neighborhood and the fact that both current and former mayors have ties to Ashburton.
"It shows you can do well there," she said. "People from the neighborhood are prosperous."
The "best birthday gift" in Abell
Laurel Ady was just getting started on her homebuying journey when she heard about an upcoming Trolley Tour. She decided to attend after finding a home she loved in North Baltimore, but though she planned to make an offer following the event that home just wasn't meant to be.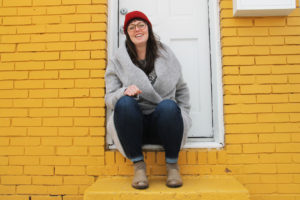 "My offer was declined," Ady said. "I decided not to push for the [incentive] because I was certain I wouldn't find something I liked in time."
The cards, however, lined up just right. A friend sent her a listing for another house. The brightly painted, updated rowhome on a tucked away side street in Abell came up for sale just in time.
"I saw it an hour later, and I put an offer in an hour after that," Ady said. "It was love at first sight with this little yellow house!"
She closed on a two-story rowhome in the Abell neighborhood just in time for her birthday week.
"This is the biggest and best birthday gift I've have ever bought myself."
"Nice and spacious" near Forest Park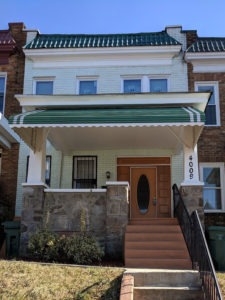 Joy Wilson is set to close on a home in the Concerned Citizens of Forest Park neighborhood this month. The mother of three said she was tired of renting and decided to buy a home at a more affordable monthly cost than rent. The Buying Into Baltimore incentive, a block grant and a seller's concession saved Wilson $17,000!
"I really enjoyed working with Live Baltimore. The [Trolley Tour] was really nice and it was good to have so many people in one place to talk to," Wilson said.
Her children, 12-year-old Dominic, 9-year-old Daiyona and 1-year-old Damirah, will have plenty of space for a playroom in the fully-finished basement. Multiple bathrooms will make mornings before school a breeze, she added.
"It is nice and spacious," Wilson said.
"A sense of community" for first-time homebuyers in Greektown
Jasmine Salters and Gary Doyle combined the Buying Into Baltimore incentive with the Baltimore City employee incentive for a total of $10,000 in downpayment and closing cost assistance on a new Ryan Homes property in Greektown's Oldham Crossing.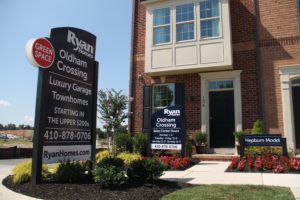 After living in Pikesville for a while, Salters, a Baltimore City police officer, is looking forward to living near the Southeastern District police station where she works.
"The city has its problems but there are people where people really care about their neighborhoods. You have a sense of community that you don't get in the county where you may never know your neighbors."
Her new, two bedroom, two and a half bath home with a one-car garage and a driveway offers the convenience of new construction close to the nightlife, dining and shopping options available in Southeast Baltimore. There is even a rooftop deck for her puppy, Waffles, who likes to stand outside, she said.
"As a first-time homebuyer you've got to do a lot of research," Salters said. "Trolley Tour definitely did help in terms of knowing how much money was available out there. We got put on the waitlist for both of the grants but in the last two weeks got off the waitlist for both. Everything is falling into place!"
"Vibrancy" in Ednor Gardens-Lakeside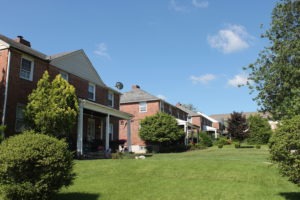 Ashley Wiggins purchased a two-story rowhome with a large, beautiful bay window in Ednor Gardens-Lakeside. After extensive research and planning, she will close on her home this month in Northeast Baltimore City.
Her new, four-bedroom house is tucked away in a quiet, appealing neighborhood, she said. The neighborhood is close to the amenities of Lake Montebello and features a YMCA. It is also close to shopping and retail.
"I went to Morgan and lived nearby for a while but moved to the county," Wiggins said. "I kept coming back to the city and just fell in love with how vibrant it is."
Would you like to qualify for up to $5,000 in downpayment and closing cost assistance toward a home anywhere in Baltimore City? Our next Trolley Tour is set for May 11 at University of Maryland, Baltimore. Register today at LiveBaltimore.com/events.
Save your recommendations for later.
Get access to our Financial Incentives Tool.
Connect with a Live Baltimore staff member for a one-on-one consultation.
Get a free I ♥ City Life bumper sticker.