How to Spend a Family Day at Rash Field Park in Baltimore's Inner Harbor
Oct. 13, 2022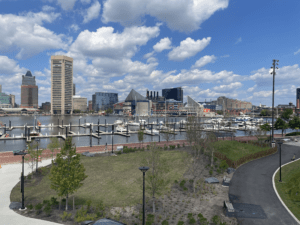 The Waterfront Partnership of Baltimore is a non-profit organization that aims to create a clean, green, safe, sustainable, and thriving urban waterfront for all Baltimore City residents to enjoy. A direct result of this mission is the continued improvements of Rash Field Park, a free and interactive waterfront park situated at Baltimore's Inner Harbor.
The park was developed with input from residents and is within a 10-minute walk of the Federal Hill, Downtown, Otterbein, and Riverside neighborhoods. Thanks to Leanna Wetmore, Director of Events and Programs at Waterfront Partnership, the Live Baltimore team toured the updates made in Phase 1 of the Rash Field Park redevelopment. Luckily for you, we know exactly how you can take advantage of it!
Get Acquainted at the BGE Pavilion
Welcome to the hub of Rash Field Park's community events, public facilities, and regularly scheduled programs. The BGE Pavilion offers seating, restrooms, and water fountains to parkgoers and allows the park to serve as a venue for local events. There are even future plans to add a local restaurant or cafe!
Learn Something New in the BGE Nature Play Area
Enjoy the scenic view of Baltimore's Inner Harbor as you engage with nature in BGE's Nature Play area. This high-quality park feature was designed by leaders in environmental design, childhood development, research, and education. Visitors can explore native plant gardens, sand pits, winding trails, hills, and logs. There are even comfy benches for those who have reached their daily exploration limit.
"[The] purpose is to mimic nature. I think mimicking nature is a really big part of this park." -Leanna Wetmore.
Free Your Inner Child at Adventure Play
Another purposefully designed playground by the National Learning Initiative —Adventure Play—provides various opportunities for children to engage with nature actively. The first things we are sure will catch your eye are the two 30-foot pointed wooden towers connected by a rope bridge, which feature a rock-climbing wall, hidden compartments, and a winding stainless steel slide. Don't worry, we've tested the slide in the direct sun. No bare arms or legs were burned in the process.
Take a Load off on the Shade Lawn
Are you looking for a place to have a relaxing picnic with a view? How about a place to stretch before or after your daily run? Either way, Waterfront Partnership has an answer for you. The Shade Lawn is a great place for lounging and taking in views, but it also serves as an excellent location for outdoor fitness!
"…notice the plants around you. These are all babies. You know, with the native plants, I always say this, 'The first year they sleep, the second year they creep, and the third year they leap!'" -Leanna Wetmore
Grind at Jake's Skate Park
That's right. There's a state-of-the-art skate park at the Inner Harbor. Including rails, stairs, grind ledges, multiple elevated decks, and more, this custom park is a skater's dream! Designed by Grindline, a concrete skatepark design and construction company specializing in the planning, design, and construction of cast-in-place concrete skateparks; it's no surprise that Jake's Skate Park was named 2022 Best of Baltimore's Best Skate Park by Baltimore Magazine.
Ground Yourself at the Overlook
Remember the hub of Rash Field Park, BGE Pavilion? Well, just above the sloped roof of this structure is where you'll find the best view of Baltimore's Inner Harbor. Climb to the grassy knoll's highest point and soak in the beautiful vista. Not going to lie; this is a prime location for Insta photos!
Other Amenities at the Inner Harbor
So, you've explored all play areas, tried your luck at the skate park, and got your Instapic at the overlook, but your day doesn't have to end there. Baltimore's Inner Harbor offers many other ways to have some family fun. With a beach volleyball pit, The Maryland Science Center, The National Aquarium, and a variety of food and drink options, all you'd have to do is walk to find your next adventure.
Don't just take our word; head to 201 Key Highway to experience Rash Field Park for yourself! To learn more about the Waterfront Partnership of Baltimore's programming and events, visit waterfrontpartnership.org. Stay tuned to Live Baltimore News to get the inside scoop on more neighborhoods and amenities.

Save your recommendations for later.
Get access to our Financial Incentives Tool.
Connect with a Live Baltimore staff member for a one-on-one consultation.
Get a free I ♥ City Life bumper sticker.