We're hiring a Communications Manager!
Feb. 4, 2022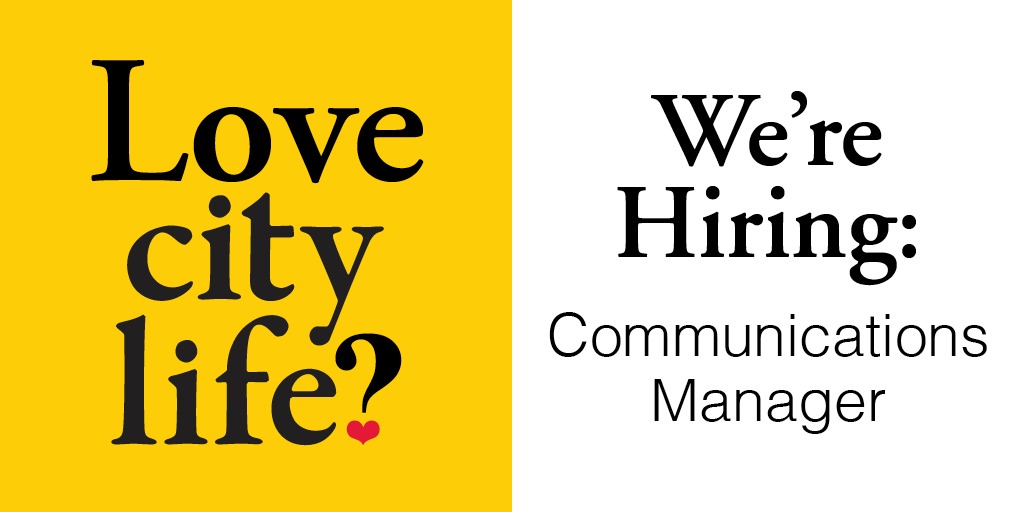 "I Adore Baltimore", "BaltiMORE You Know", "Baltimore is Best", "The City that Reads", "The Greatest City in America!" If Baltimore's next great slogan is in your head, read on! At Live Baltimore, we love Baltimore to our cores. We work citywide to help neighborhoods thrive by attracting residents, retaining residents, and supporting healthy housing markets.
We're looking for a Communications Manager to join our team and lead our overall marketing and communications efforts. Because we're a small team, we need a well-rounded communications professional who can wear multiple hats: project manager, art director, copywriter, website editor, and publicist. No two days will be the same!
If you're an experienced communications professional who lives in and loves Baltimore City, this could be the perfect opportunity for you. We invite you to take a look at what we do and our impact on Baltimore in our most recent annual report. Keep reading to apply today!
Key Priorities & Responsibilities:
Communications Management:
Maintain Live Baltimore's verbal and visual tone across external communications by adhering to and reinforcing brand standards.
Manage all digital platforms for Live Baltimore, including LiveBaltimore.com, social media accounts, and email campaigns.
Keep website content fresh, accurate, and relevant, and develop strategies to bring in desired traffic while maintaining positive customer interactions.
Generate daily content for Live Baltimore's social media sites (with a focus on Facebook, Instagram, and Twitter).
Develop and oversee Live Baltimore's email newsletters.
Marketing:
Work with consultants to create and execute effective marketing plans that increase interest in Baltimore City living and Live Baltimore's many events.
Manage an annual advertising budget.
Collaborate with graphic designers to develop high-quality campaigns and materials.
Monitor all digital traffic and paid advertising results to draw insightful conclusions and influence future marketing decisions.
Public Relations:
Write press releases, pitch stories, coordinate media interviews, and brief the Executive Director on talking points as needed.
Generate news stories for Live Baltimore's blog.
Events:
Assist in staffing Live Baltimore's events—taking photos, live tweeting, and providing other coverage as needed.
Create and execute signage plans that ensure positive guest experiences.
Coordinate development and delivery of event-related print materials.
Is This You?:
Bachelor's Degree in Communications, Advertising, Graphic Design, Journalism, or related fields
5+ years of experience and proven success in a communications, digital marketing, or advertising role
Experience developing, managing, and monitoring:

Multi-media advertising campaigns
Email marketing campaigns
Direct mail campaigns
Social media campaigns
Media plans, especially digital
Websites using content management systems (experience with WordPress is a plus)
Google Adwords accounts
Google Analytics accounts
Print production
Digital photography

Experience writing, placing, and pitching stories to the press
Experience supervising graphic designers and other communications contractors
Knowledge of Adobe Creative Suite software, especially InDesign
Knowledge of online emailing marketing platforms (such Mail Chimp)
Outstanding written communication skills, excellent grammatical knowledge, and ability to follow various writing style guides
High aesthetic standards, including the ability to recognize and troubleshoot design challenges and/or to create beautiful communications materials
Flexibility to work some evenings and weekends (approximately 3 Saturdays and fewer than 10 evenings per year)
Terrific Total Compensation Package:
Annual starting salary of $60-66k, commensurate with experience
Competitive benefits: health insurance, retirement with match, generous paid time off, and more
A cohesive, mission-oriented, fun, and collaborative team (see our Core Values below)
About Live Baltimore:
Live Baltimore believes residents are our city's greatest assets. As a 501(c)(3) nonprofit, we fight the persistent and devastating population loss that began in Baltimore City in the 1950s and which has destabilized neighborhoods and limited families' opportunities to flourish in their communities. We are effective in this work through programs designed to persuade prospective residents, empower existing residents, and influence the real estate industry.
Our Core Values are at the heart of everything we do and drive our team's success:
Love Baltimore. We love Baltimore to our cores.
Stay Positive. We celebrate our wins big and small.
Be Helpful. We model humility and service.
Get Results. We are nothing if not effective.
Collaborate. We accomplish more together.
Sound exciting? Apply today!
TO APPLY: Please click "Apply" to submit a Letter of Interest (seriously, this is important and required) and your resume. For additional information about Live Baltimore, please check out our website: LiveBaltimore.com.
Live Baltimore believes that diversity, equity, and inclusion are critical to our success. We seek to recruit, develop, and retain the most talented people from a diverse candidate pool. If you are a Baltimore City resident, we invite you to apply today!
At Live Baltimore, we are committed to providing an environment of mutual respect where equal employment opportunities are available to all applicants and teammates without regard to race, color, religion, sex, pregnancy (including childbirth, lactation, and related medical conditions), national origin, age, ancestry, physical and mental disability, marital status, sexual orientation, gender identity, gender expression, genetic information (including characteristics and testing), military and veteran status, and any other characteristic protected by applicable law.

Save your recommendations for later.
Get access to our Financial Incentives Tool.
Connect with a Live Baltimore staff member for a one-on-one consultation.
Get a free I ♥ City Life bumper sticker.