Through the Upton Gateway: Touring a Transformation
Aug. 17, 2022

The West Baltimore neighborhood of Upton, also known as Historic Marble Hill, is celebrated for its well-preserved architectural detail and ties to famous African-Americans in history, including Thurgood Marshall and Clarence Mitchell. Today, these same historic homes have been elevated to the 21st century with a touch of luxury.
Thanks to the Upton Gateway Project, two main blocks of Upton have been granted new life and community. More than 4 years ago, developers Armstead Jones and Dean Harrison joined forces with Jules Dunham Howie, Upton Planning Committee Westside Community Development Corporation Director, and Wanda Best, Executive Director of the Upton Planning Committee, Inc, to re-imagine a new Upton.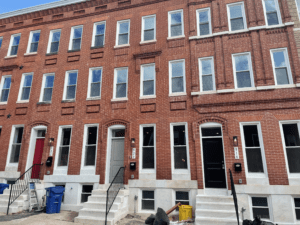 Earlier this month, the Live Baltimore team got the opportunity to take a walking tour of Harlem and Edmondson Avenues to view the Upton Gateway Project within its many stages of progress. The trip was like time traveling. We saw bare-bones properties sporting walls, wood, windows, and lots of Tyvek house wrap, but not much else. We also saw properties that had yet to be started, missing vital pieces of their structure.
Fast forward to what is truly a homeowner's dream: the three-bedroom, two-bathroom newly rehabbed homes come standard with three finished levels, restored historic accents, granite countertops, stainless steel appliances, and off-street parking. What's unique about the Upton Gateway Project is that buyers have the option to fully customize their homes. Some of these customization options include a rooftop deck, wet bar, custom flooring, custom stairs, and a "Granny Flat".
Beyond the physical walls of your home in Upton, the community on Harlem Avenue and Edmondson Avenue has become as strong as the ground it stands on. Dean Harrison, Upton Gateway Project developer and Upton resident, stated,
"The early buyers formed a community before they even moved in."
In fact, both he and fellow developer Armstead Jones believe the early buyers of the newly rehabbed homes on Harlem Avenue are more than buyers or even investors; they are partners. While the project still has some way to go, Harrison and Jones are optimistic about completing their final Upton property by the end of 2023. We're happy to see that this project could shed light on an overlooked part of our city. Additional photos of the Upton Gateway Project can be found on our Facebook page.
Learn more about how you can invest in the Upton Gateway Project. And, if you want to learn more about how you can receive $5,000 toward your newly rehabbed home in the Upton neighborhood, stop by our Fall 2022 Trolley Tour. Learn more about homebuying, tour neighborhoods in Baltimore City, and find out what other incentives you may be able to use at a free workshop. Join us at the University of Maryland, Baltimore, on Saturday, October 1, 8:30 am – 1 pm.


Save your recommendations for later.
Get access to our Financial Incentives Tool.
Connect with a Live Baltimore staff member for a one-on-one consultation.
Get a free I ♥ City Life bumper sticker.