Tour Greater Mondawmin With Us!
Jul. 17, 2019
Neighborhood Tour
On the final Friday of every month, Live Baltimore heads out of the office and into one of Baltimore's 278 neighborhoods. Each month, we love what we find! June was no different.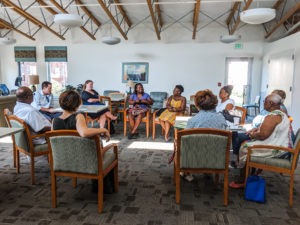 Our morning took us to the St. Stephens Court Community Center to meet with residents representing the Robert W. Coleman, Panway and Parkway communities of Greater Mondawmin. After settling down with coffee and donuts, we listened as neighbors told us about the past, present and what they hope for the future of their neighborhood.
Though the official city boundaries of the Mondawmin neighborhood stretch from Reisterstown Road/Liberty Heights Avenue to North Avenue between the Coppin State University campus and Fulton Avenue, longtime residents know the neighborhood to be about a half dozen smaller communities bordering the southwestern boundary of beautiful Druid Hill Park.
Many of the neighborhoods in the area have seen disinvestment in decades past but residents say their communities are working hard toward a stronger future.
"The neighbors are great," said Mel Brooks, president of the Parkway community, which is officially known as Burleith-Leighton and is just west of the Mondawmin Mall.
Brooks said he moved to the neighborhood 12 years ago for the convenience and affordability and enjoys having quick access to public transportation. The neighbors are helpful and welcoming, he added.
Adeline Hutchinson, president of the Greater Mondawmin Coordinating Council and the Robert W. Coleman Community Organization, has had a similar experience in her 35 years in the community.
"My husband recently passed and people ask, 'Are you going to stay in that big house,' and I say, yeah," she said. "I've never had any problems here."
Though Hutchinson notes that the community is aging, she said she is working on attracting young families to live in the area in hopes of bringing revitalization to blocks that need a little bit of love.
She pointed to the neighborhood's proximity to public transportation and major commuting routes, schools for youth all the way to adulthood and the general affordability of homes in the area as major selling points yet to be taken advantage of to their full potential.
"Things are changing but we're looking up," she said. "We're sitting on a goldmine."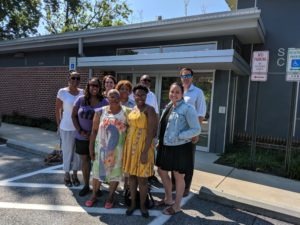 After wrapping up at the community center the group set off on a walking tour led by Adeline. It warmed up quickly outside but that didn't stop us from taking in the scenery. We walked along North Avenue before turning into the Robert W. Coleman community. Hutchinson pointed out a mosaic done by children in the neighborhood.
From there we came upon the Quiet Park, a shady, tree-filled community space maintained by volunteers and adorned with art made by local residents. An urban garden planted nearby by Tree Baltimore, Baltimore's program for the coordination of all tree plantings by city agencies, non‑profit organizations, neighborhoods, and community associations, featured a fruiting apricot tree.
Circling back to the community center we passed Mr. Willy, of Dinkins Fine Dry Cleaning and Storage whose dry cleaning business has been on the same corner for many years. We stopped for a moment to say hello and take in some shade before we said our goodbyes.
Thank you for the tour, neighbors!
Interested in learning more about Mondawmin? Read more about it on their neighborhood page.
Save your recommendations for later.
Get access to our Financial Incentives Tool.
Connect with a Live Baltimore staff member for a one-on-one consultation.
Get a free I ♥ City Life bumper sticker.