Tour Ridgely's Delight with Us!
Feb. 27, 2019
Neighborhood Tour: Ridgely's Delight
On the final Friday of every month, Live Baltimore heads out of the office and into one of Baltimore's 278 neighborhoods. Each month, we love what we find! February was no different.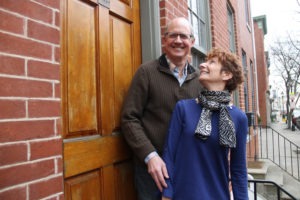 Ridgely's Delight is a small, historic neighborhood near Oriole Park at Camden Yards with rowhomes of all shapes and sizes. Residents say its quaint, community feel draws them to stay long-term. As we spent a few hours this Final Friday hearing from community members and looking at the vast array of restored rowhomes, it was easy to see why neighbors love Ridgely's Delight.
We started our day at the beautiful home of Bill and Sharon Reuter, who moved to Baltimore in the mid-80's from Connecticut for a job transfer and were part of the founding team that eventually became Live Baltimore.
"All we knew about Baltimore was that it was halfway between Connecticut and Florida," said Sharon of the couple's initial decision to move to Baltimore City. "We came for a weekend and really liked it so we decided to take a chance and make the move."
With the help of a real estate agent they looked in Columbia, Federal Hill, Fell's Point and Mount Vernon before eventually settling on a house in Ridgely's Delight that was just right. It offered off-street parking, an expansive city garden and "more bang for the buck."
Within days of moving in, the Reuters said they knew they'd made the right choice.
"Five days here we went to this [community association] meeting and all of these people came up and introduced themselves," Sharon said. "We started to get to know the neighbors, and that was really great for us. Coming from Connecticut we never had this type of community before."
Residents Nicole Deasey, Susan Clayton and Dawn Merguerian echoed similar opinions about why they love the neighborhood.
Clayton's first time in the community was a happy accident. She recalled getting lost in its one-way streets many years ago.
"Someone stopped and told me how to get out of here," Clayton said. "Whoever it was was very nice and told me it was a great neighborhood."
Clayton said she remembered the friendly neighbor who helped her get back on a main road when it came time to sell her home in Ednor Gardens. She eventually purchased a Paca Street home in Ridgely's Delight and has been a happy resident for 19 years.
In addition to feeling like somewhere where everyone knows each other, the neighborhood hosts special events to bring each other together, many of which take place in Conway Park at the southern end of Ridgely's. Residents enjoy concerts in the park, holiday parties, happy hours, game nights and National Night Out. The neighborhood association also offers clubs for running, gardening and knitting enthusiasts.
After getting to know each other, we left the Reuters to explore the neighborhood on foot. We headed immediately next door to Dawn Merguerian's renovated condo.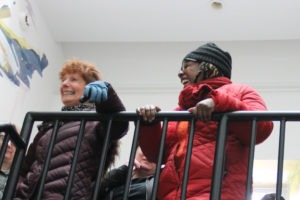 Merguerian moved to Baltimore to attend the University of Maryland School of Dentistry and originally moved to Ridgely's because of its proximity to campus. She has now lived in three houses throughout the neighborhood and has no plan to leave anytime soon.
"It's been great," she said. "I think it's the best location in Baltimore."
Merguerian's current home was formerly a Methodist church before receiving new life as a modern, two-bedroom loft with lots of windows, expansive ceilings and a gorgeous mural lining its centrally located, black iron staircase.
We "ooh-ed" and "ahh-ed" over the modern finishes inside her home and then it was time to head outside again. In a few blocks, the group arrived at the tot lot. Ridgely's Delight encompasses just nine blocks between Martin Luther King Jr. Boulevard and Greene Street and the tot lot at the intersection of Penn, Melvin, and Bankard Streets is one of its highlights, according to Nicole Deasey's 2-year-old son Dexter.
Deasey was a longtime resident of Fell's Point before moving to Ridgely's with her husband six years ago.
"I came kicking and screaming, but it's honestly so quaint and quiet in Ridgely's I can't imagine living anywhere else now," Deasey said.
From the tot lot, we headed to two historical spots in the neighborhood—the birthplace of famed Major League legend Babe Ruth and a circa-1700's bed and breakfast on Washington Boulevard thought to be a frequent stopping point for George and Martha Washington.
The Babe Ruth Birthplace Museum where Ruth was born in 1895 sits inside of a rowhouse on Emory Street. The rowhouse was originally leased by Ruth's maternal grandfather and opened to the public as a national shrine in 1974, according to its website.
Today, an expanded museum holds multiple galleries about Ruth, baseball memorabilia and, as of early this month, Ruth's Presidential Medal of Freedom.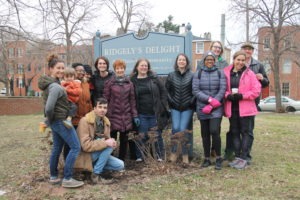 Leaving the museum, we found the Ridgely's Delight neighborhood sign and posed for a quick photo before making a stop at Rachael's Dowry, an inn located in the restored, historic home of a brick baron. 
We received a quick overview of the home. Originally owned by pacifist Quakers, the inn's renovators discovered underground tunnels leading them to believe that it might have been a stop on the Underground Railroad. Today, the inn is furnished with period antiques and lovely architectural details making it a great place to stay while visiting Camden Yards or other Baltimore sites.
Live Baltimore's team was impressed by the museum and inn and decided they were places we needed to revisit. It was neat to see such cool history right in our own city!
The residents of Ridgely's Delight couldn't agree more. Their love for their neighborhood and its history was evident throughout our tour.
"If I were to advise someone today [about choosing a neighborhood] I'd tell them they need to get to know the people," Bill Reuter said. "In a city neighborhood that's what it's all about."
Interested in learning more about Ridgely's Delight? Read more about it on their neighborhood page.
Save your recommendations for later.
Get access to our Financial Incentives Tool.
Connect with a Live Baltimore staff member for a one-on-one consultation.
Get a free I ♥ City Life bumper sticker.