5 Things We Learned from Live Baltimore's 2022 State of the City Market
Feb. 20, 2023
For the second year in a row, Live Baltimore hosted a State of the City Market event summarizing the trends and neighborhood sales activity in residential real estate from the previous complete calendar year.
Industry-leading professionals congregated at this private event to:
Hear from an expert-led panel about exciting new development projects in Baltimore City.
Connect and network with Baltimore real estate professionals.
Learn which neighborhoods offer the most, highest value, and fastest sales in Baltimore City.
Receive a copy of the exclusive 2022 Baltimore City home sales report.
Take a look at five major takeaways from the event—some potentially impacting the state of the 2023 housing market and beyond.
1. We're Going to Need a Bigger Room!
The State of the City Market 2022 update posed a new challenge for the Live Baltimore staff. The event was now in person for the first time and, although it was invite-only, was sold out for weeks! On a cold, rainy Tuesday morning, Live Baltimore partners, supporters, and staff met at Hotel Revival in the historic Mount Vernon neighborhood to support, network, and learn with one another.
Some notable attendees include Baltimore City Department of Housing and Community Development Commissioner Alice Kennedy, President and CEO of the Baltimore Development Corporation (BDC) Colin Tarbert, and various Baltimore City Planning Department members.
2. Significant Homebuyer Interest in Baltimore City Continues into 2023
We all remember the 2021 housing market. It produced the highest number of purchases and the most properties purchased since 2010, and 2022 was a close second!
"While 2022 wasn't quite the record-breaking year that we had in 2021, there is plenty to celebrate about the last 12 months of Baltimore City's residential real estate market." –Annie Milli, Executive Director at Live Baltimore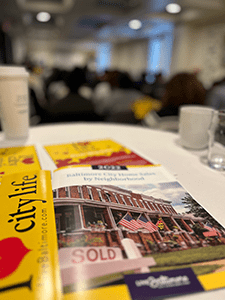 The 2022 Baltimore City housing market saw 9,498 home purchases, surpassing $2.3 billion in total sales. This was the second time in Baltimore City's history that multiple listed sales exceeded $2 billion in transactions, only a 10% decrease from the previous year.
3. Construction is Underway for 458 Unique Units in South Baltimore
Jay Sapperstein, Development Manager at 28 Walker Development, was among our panel of experts to discuss his current residential developments in Locust Point. After seeing the success of McHenry Row, 28 Walker Development decided to bring two new projects to the area, Locke Landing and Banner Row Townhomes.
Banner Row Townhomes, currently in phase two of construction, has garnered immense popularity, selling all 50 units from phase one within three months of entering the market. Additionally, the Locke Landing development will introduce 400 new single-family properties to the area in various sizes, including 16-, 20-, and 24-foot-wide townhomes and two-over-two condos by early 2024.
4. West Baltimore Expecting 120 New Townhomes by the end of 2023
The second member of our panel of experts was Theresa Stegman, Development Director at MCB Real Estate LLC, who discussed redevelopment plans for Madison Park North in West Baltimore. Phase one of this project, which is currently under construction, expects 120 new townhomes in the 800 block of North Avenue by Fall 2023. Some additional features for these homes include a rooftop deck, a single-car garage, and the option to choose your finishes.
Phase two of the Madison Park North redevelopment will make way for a 200-unit apartment building above a grocery store and other street-level retail businesses. Construction of phase two is expected to begin in early 2024.
"It's going to be a true 'live, work, play' community, and it's going to really anchor the eastern end of the North Avenue corridor." –Theresa Stegman
5. New Infrastructure Work to Begin in East Baltimore this Summer
Our final two expert panelists include Khalil and Kyara Uqdah, 10-year veterans in real estate investment and home rehabs, and the founders of Charm City Buyers. This rehabbing duo has partnered with Mayson Dixon Properties & Development to form Eager Park Partners LLC, a local black-owned and woman-owned development firm.
"We take vacant houses, and we turn them into homes." –Khalil Uqdah
Eager Park Partners LLC is slated to produce 54 new townhomes in the East Baltimore Development Inc (EBDI) footprint of East Baltimore. This summer, look for infrastructure work in the Eager Park and Broadway East areas. This project plans to begin construction in early 2024, with completed homes entering the market in 2025.
Want to watch the State of the City Market update for yourself? View the full presentation below. If you would like a copy of the 2022 Live Baltimore Home Sales Report, please email media@livebaltimore.com.

Save your recommendations for later.
Get access to our Financial Incentives Tool.
Connect with a Live Baltimore staff member for a one-on-one consultation.
Get a free I ♥ City Life bumper sticker.