Tour Ednor Gardens-Lakeside With Us!
Jun. 25, 2019
Neighborhood Tour
On the Final Friday of every month Live Baltimore heads out of the office and into one of Baltimore's 278 neighborhoods. Each month we love what we find. This month was no different.
Our May Final Friday took place in beautiful Ednor Gardens-Lakeside.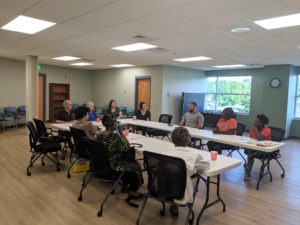 The neighborhood gets its names from a portmanteau of the names of developer Edward J. Gallagher's sons, Edward and Norman. It comprises some 7,000 households in Northeast Baltimore offering a mix of untraditional rowhomes of varying styles, many with large sunrooms, front porches and small yards, as well as duplexes and single-family detached homes. There's really something for everyone!
We began our day by meeting Ednor Gardens-Lakeside Civic Association president Shane Bryan and many neighbors at the local YMCA on 33rd Street. Bryan moved into Ednor Gardens-Lakeside in 2014 after being introduced to the neighborhood by a friend. He said fell in love with how welcoming the community is to residents and strangers alike.
That sentiment was shared by many of the neighbors we spoke with. 
Anthony Angion moved to Ednor-Gardens Lakeside five years ago from New York City and is a regular at Wine Wednesday, a monthly community event where the host is tasked with putting together appetizers while guests bring the wine. The event gives neighbors an opportunity to chat and meet each other.
Angion said he originally planned to live closer to Downtown Baltimore but was convinced by a realtor to give Ednor Gardens-Lakeside a look.
"I was drawn by the amount of camaraderie," he said. "Everyone wants to be a part of improving the neighborhood."
Neighbors said they enjoy the convenience of having so many amenities nearby and proximity to restaurants and stores in Charles Village, Better Waverly and Waverly and the Enoch Pratt Free Library in Abell. While some amenities in the immediate neighborhood are fairly hidden to outsiders, residents told us multiple community gardens and a playground are great benefits of living in Ednor Gardens—you just might not know about them unless you hear about them from a neighbor.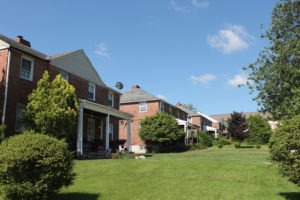 After leaving the Y, we walked through Stadium Place, the senior apartment complex that replaced Memorial Stadium. A new mixed-income retirement community with a pharmacy on the land is in the works.
From there we walked into the Lakeside area of the neighborhood, just west of The Alameda. The quiet, well-manicured area of single-family detached homes felt like a hidden gem so close to everything but tucked away.  While on the walk we passed the home of a friendly neighbor who invited us into her backyard complete with a beautiful sitting area and colorful flowers.
We continued our walk along the Alameda before stopping for a photo at the Ednor Gardens-Lakeside sign and circling back to the Y to say our goodbyes. Thank you so much for the tour Ednor Gardens-Lakeside!
Interested in learning more about Ednor Gardens-Lakeside? Read more about it on our neighborhood page.
Save your recommendations for later.
Get access to our Financial Incentives Tool.
Connect with a Live Baltimore staff member for a one-on-one consultation.
Get a free I ♥ City Life bumper sticker.