Spring 2019 Trolley Tour: University of Maryland, Baltimore Recap
May. 24, 2019
Trolley Tour
Our Spring Trolley Tour started off on a chilly day at the University of Maryland, Baltimore where more than 430 potential homebuyers streamed through the doors of the university's Southern Management Campus Center.
Live Baltimore's Trolley Tour is a three-part event of which a tour of Baltimore City neighborhoods is just one piece of the puzzle. Participants at all stages of their homebuying journey attend to learn about buying a Baltimore City home, meet with exhibitors in the City Living Fair, tour Baltimore neighborhoods and qualify for a chance at $5,000 in down payment/closing cost assistance.
Exploring Baltimore
Our Downtown-area location made it especially easy to get to many of Baltimore City's more central neighborhoods on our tour. This time around participants got the chance to see more of Washington Village/Pigtown, Union Square, Ridgely's Delight and other neighborhoods in Central, Southwest and South Baltimore. Many said it gave them insight into parts of Baltimore City they might not have gotten a chance to explore before.
Participants were split onto about a dozen staggered buses that set off on the same tour route with a couple of opportunities to hop off of the bus and see open houses.   
"I was interested in these neighborhoods so it was nice to explore them in one go," said Lisa Smith, who lives and works in the area. "It was a good mix. Some of the historical facts and cultural history were neat like The Lithuanian Hall [Hollins Market], the French Fair [Seton Hill] and different events and businesses that are good to know." 
Getting in Some Learning and Meeting New Neighbors
Hershea Watson and Sherneice Cutler didn't know each other before the Trolley Tour but left as friends. Both women said they are hoping to purchase closer to work, Watson near Johns Hopkins University and Cutler closer to Bon Secours Hospital.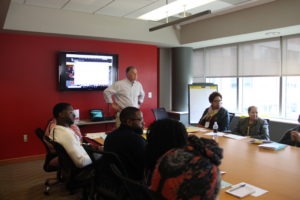 The pair met after sitting next to each other at one of the day's workshops.
"I knew a lot of the information because of previous [Live Baltimore] workshops I've attended, but it was nice to a learn a little more and get those last questions answered–and I got to know Hershea," Cutler said.
"Maybe we'll buy houses next to each other," Watson added.
Kia LaPrade also attended the event ahead of a potential home purchase near the Johns Hopkins Hospital where she works. The workshop session on home maintenance, Home Maintenance 101, was extremely helpful as a first-time homebuyer, she said.
"I didn't quite know what to expect," said Kia LaPrade. "I definitely didn't expect there to be so many people but there was a lot I didn't know. There are so many things you have to clean or look for during inspections so this was very helpful."
Meeting Homebuyers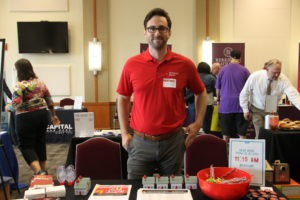 Live Baltimore Trolley Tours offer something for those at all stages of their homebuying journey. The City Living Fair, staffed by lenders, realtors, brokers, neighborhood organizations, nonprofits and more, is a great place to get started with putting together a real estate team or find out about resources that might be helpful after you close.
First Home Mortgage partner lenders Chase Cusack and Marty Wallace said participants are energetic about their purchases and that makes their job as loan officers enjoyable. The fair gives them a chance to help buyers find their right fit.
"There are people that are in the beginning stages and just learning and there are others that are ready to enter the lottery and win the $5,000," Cusack said. "People are really excited, and it's cheesy but that makes us happy."
The next Trolley Tour is scheduled for Sept. 28 at Baltimore Polytechnic High School. Event registration is currently open.
Save your recommendations for later.
Get access to our Financial Incentives Tool.
Connect with a Live Baltimore staff member for a one-on-one consultation.
Get a free I ♥ City Life bumper sticker.