Tour Jonestown's Reginald F. Lewis Museum With Us!
Mar. 20, 2020
Amenity Tour
On the final Friday of every month, Live Baltimore heads out of the office and into one of Baltimore's 278 neighborhoods. Each month, we love what we find. February was no different!
In honor of Black History Month, the Live Baltimore team decided that there was no better way to spend our monthly team building outing than learning about Maryland's African-American history at the Reginald F. Lewis Museum in Jonestown.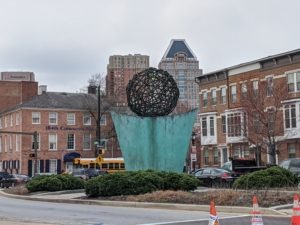 The Baltimore treasure is one of the largest museums of African-American history in the country and the largest in Maryland. Lucky for us it's right in our own backyard!
We started the morning at Vaccaro's Italian Pastry Shop. The company's original Little Italy location is a Baltimore staple for Sicilian pastries and just a few blocks away from the museum. After warming up with coffee and a few too many sugary treats, we walked up to meet the Lewis Museum's Executive Director, Jacqueline Copeland, for a tour.
The Live Baltimore team made it just in time to catch the end of a special exhibit, Elizabeth Catlett: Artist and Activist! Catlett, a sculptor and a print maker, is known for using her art to fight oppression, racism and gender inequality, among other social issues.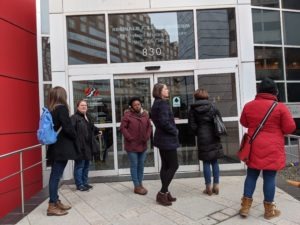 As we toured the gallery, Jackie gave us tidbits about Catlett's work and explained that the artist's dual American and Mexican citizenship is evident in the causes she chose to highlight through her work. The range of art in the gallery included depictions of strong, joyful African-American women in sculpture to paintings and prints of  African Americans during the Jim Crow era and the injustices faced by Mexican sharecroppers.
"I'm amazed," our Human Resources Manager, Julie, said about the special exhibit. "She has so many skills. I usually think of artists as having one skill and maybe dabbling in others but she does sculpture and lithographs and paintings and they're all so different."
We took in the rest of the gallery before proceeding to the museum's main, year-round exhibit with Visitor Services Manager Kenneth Johnston (Jay for short).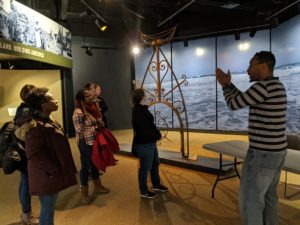 "One thing I love about this museum is that there are a lot of things in here you don't see in other areas," he told us. "You know about MLK and Malcolm X but you might not know Eubie Blake or Mrs. Alice. This museum is very close in proximity [of time] to the point where people see their grandparents in here. It's more personal and you can connect to it a lot better."
The Lewis Museum's Permanent Collection includes displays on everything from the injustices of slavery and Jim Crow to Black Excellence in the arts, politics, sports, military and more, Jay said.
With so much to see one could really spend hours in this museum so a few members of our team headed straight to Guest Services to purchase memberships for future visits. While we don't know when we'll have the chance to go back just yet we can't wait to find out what else there is to discover inside the Lewis Museum!
Interested in learning more about what's available in the Jonestown neighborhood? Read more about it on our Neighborhoods page.

Save your recommendations for later.
Get access to our Financial Incentives Tool.
Connect with a Live Baltimore staff member for a one-on-one consultation.
Get a free I ♥ City Life bumper sticker.