20 Questions with Suzi Senna
Apr. 7, 2023
Get to know our newest Live Baltimore team members with a good, old-fashioned round of 20 Questions! This installment features Director of Marketing and Communications Suzi Senna.
How long have you lived in Baltimore City?
April 2023 will mark a full year!
Which neighborhood do you currently live in?
Are you a homeowner or a renter?
Homeowner
If you had to live in a different Baltimore neighborhood, which would you choose and why? (Pretend money is no object.)
I absolutely love Canton—but as a wholly practical choice, I may consider living in Mount Vernon to be closer to work. However, I do love my 3-mile walking commute every morning.
What's the best thing to do in Baltimore city on a Saturday night…go!
Trying out a new bar or restaurant (or bar AND restaurant) with friends! This city is definitely not in short supply in either category—and much like the neighborhoods—each bar and restaurant seem to have its own vibe, which I love exploring.
What is still on your Baltimore "to-do" list?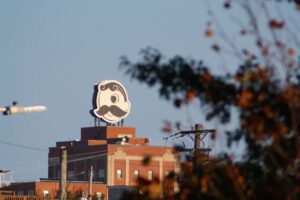 Ummm…everything! I still have a lot of things to do, but I am trying to leave the more touristy things to experience when we get out-of-town visitors. I still need to visit and do a taste test at the Sagamore distillery (and others I come across). I still have a lot of museums to cross off the list as well, not to mention a quest to find the best Chinese, Thai, and Indian restaurants in the City. I'm not in any rush to cross these items off my list since I plan to stay in Baltimore for a very long time.
Who is your favorite Baltimore mascot: Mr. Boh, the oriole bird, Poe (the raven), or someone else?
I have to say Mr. Natty Boh is my favorite. We have a complicated relationship of sorts. The first time I saw him (not knowing anything about him or Baltimore), I thought he was a two-eyed rip-off of the Pringle's man. Not a great first impression. But as a figure that resides in the Natty Boh Tower in the neighboring Brewers Hill, I took it upon myself to learn the truth and educate myself on the Baltimore legend! I was pleasantly surprised—and relieved—to know that Natty dates back to the 1930s, way before the Pringles logo was developed in 1967. Natty Boh has since won his way into my heart (although I do miss his neon winks).
What one piece of advice would you give to someone moving to Baltimore from out of town?
Don't let the Baltimore-based David Simon shows be the only impression you get of this beautiful city. Come see for yourself everything Baltimore offers—and you'll find that it's a lot.
What do you love the most about the city?
The absolute most? That it's so walkable! I can walk to the grocery store, pharmacy, waterfront, park, work, movie theater, bars, and restaurants, and more. While I have a vehicle, it stays parked for the most part. It's been a dream to find a city that is so accessible—a true walker's paradise!
What is your preferred mode of transportation?
My feet, for the most part. The second most preferred is the bus (hot tip: ensure you get the Charm Card and Transit apps to make riding the bus as easy as pie).
What is your favorite feature of the city?
I love being able to walk along the water in the Harbor.
Besides live Baltimore, what other local nonprofits do you support?
So far on the list are Friends of Patterson Park, Creative Alliance, American Red Cross, and WYPR.
What's your favorite outdoor city activity?
Stoopin'. Our neighbors introduced us to the concept the first day we moved in, and we haven't looked back.
What is your superpower?
I can say a lot without saying a single word. It's all in the face—for better or worse.
Which Baltimore celebrity (past or present) would you most like to have dinner with?
Definitely, Mr. Poe. I love the dark and brooding types.
What is your favorite locally-made product?
I can eat Berger Cookies for breakfast, lunch, and dinner.
What is one thing you want the world to know about Baltimore?
Baltimore is a city of open arms. It welcomes those from all walks of life, and it doesn't take long for it to feel like home.
What is one thing you'd still like to learn about Baltimore?
A person can live a lifetime and still have things to learn about this City. The one thing that is definitely on my list is learning about the history of how the neighborhoods (all 278 of them) got their names.
What three words best describe your work personality?
Focused, creative, practical.
What excites you most about joining the Live Baltimore team?
Being with an incredible group of people who are all committed to an impact in our community.
We've had fun introducing you to our new colleague! Look for more installments of this series in the future as our team continues to grow. You can read more about Canton on our Neighborhoods page.

Save your recommendations for later.
Get access to our Financial Incentives Tool.
Connect with a Live Baltimore staff member for a one-on-one consultation.
Get a free I ♥ City Life bumper sticker.