Tour Medfield With Us!
Dec. 15, 2019
Neighborhood Tour
On the final Friday of every month, Live Baltimore heads out of the office and into one of Baltimore's 278 neighborhoods. Each month, we love what we find! November was no different.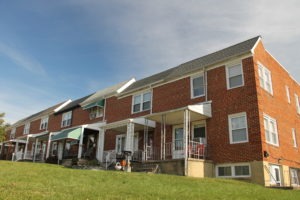 Our November walking tour took us to the Medfield community in North Baltimore. With unusually pleasant end-of-November temperatures we couldn't ask for better weather to explore the neighborhood.
Residents tell us the area is great for families with children and soon to be even better thanks to improvements at Medfield Heights Elementary School. Close to The Avenue and The Rotunda in Hampden and the Jones Falls Trail, Medfield also offers plenty of shopping and recreation options.
We started our morning at the Residences at Roland Heights, a new-construction development by our partners at DR Horton.
The Residences at Roland Heights offer roomy, new-construction townhomes with parking. We ooh-ed and ahh-ed at all of the space and the staging of their model townhome before sitting down to chat with some Mefield neighbors.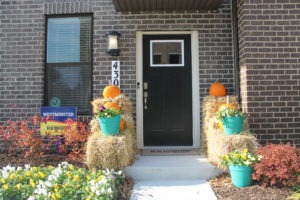 "The people are very friendly and it's very 'neighborhoody,'" said 11-year-resident Erin Bolton about what she loves about the neighborhood. "There's a porch or an alley culture here where people hang out together outside."
Bolton lives on the south side of the neighborhood in a three-bedroom rowhouse with her husband. Their two daughters attend Medfield Heights.
"We're welcoming of neighbors and can walk to anything in Hampden but still have decent parking."
Bolton's neighbor as six-year Medfield resident Laura Everdale echoed those sentiments.
"The people, our block—everything is amazing and walkable. Being able to walk to anything we want is really the best part."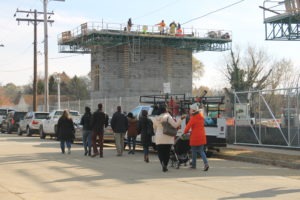 After hearing from neighbors it was time to experience some of that on the walking portion of our tour!
One of the many great things we found to love about Medfield is the sheer variety of homes offered in such a small, tight-knit neighborhood. On our walk we passed typical, two-bedroom rowhouses (some with cute front porches), duplexes and single-family, detached homes all in the span of just a few blocks. There really is something for everyone!
As we approached the site of Medfield Heights, the sound of construction started to grow louder. Workers were busy on a renovation of the school set to be completed in early 2021. Students zoned for Medfield Heights currently attend classes in swing space at nearby Chinquapin Middle School. Bolton and Everdale told us that parents are excited to once again be able to walk to school once construction is over.
As we rounded the corner and headed back to The Residences at Roland Heights we passed an unofficial, rocky path used by residents to get to the relatively new Union Collective at the southern boundary of the neighborhood. The development features a brewery, coffee shop, rock climbing gym, ice cream shop and distillery all in one place.
"It's old-school and new-school just blending together," Bolton said.
Interested in learning more about Medfield or other North Baltimore neighborhoods? Read all about them on our Neighborhoods page.

Save your recommendations for later.
Get access to our Financial Incentives Tool.
Connect with a Live Baltimore staff member for a one-on-one consultation.
Get a free I ♥ City Life bumper sticker.