Winter 2020 Trolley Tour: Morgan State University Recap
Feb. 13, 2020
Trolley Tour

Our Winter Trolley Tour got off to a chilly start on a beautiful February morning at Morgan State University where more than 400 eager homebuyers strolled through the doors of Morgan's Student Center to learn all about homebuying.
Live Baltimore's Trolley Tours are three-part homebuying events of which a tour of Baltimore City neighborhoods is just one piece of the puzzle. Participants at all stages of their homeownership journey attend to learn about buying a Baltimore City home, meet with exhibitors in the City Living Fair and tour city neighborhoods. The Trolley Tour is also a qualifying event for the City's $5,000 Buying Into Baltimore incentive. Read on to see what some of our participants had to say about the Winter Trolley Tour!
Buying a Home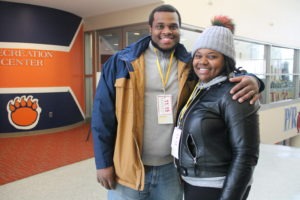 Joshua and Lynette Cooper are just starting out on their homebuying journey. The couple lives in Hamilton Hills with their two children (an 8-year-old and a 1-year-old) and are thinking about buying a home in the next year and a half.
"We're looking for a family friendly neighborhood and starting to consider our options," Lynette Cooper said. "This date worked out and it was nice to be able to talk to so many exhibitors in one place."
Though familiar with Northeast Baltimore, the couple said they were looking forward to seeing what else was available in other neighborhoods nearby.
Nabeehah Azeez was a little farther along on her journey. She attended the Trolley Tour for a second time this winter with the hopes of becoming one of 30 lucky homebuyers to win $5,000 toward their Baltimore City home purchase.
"Live Baltimore really helped me," she said. "When I went to my first Trolley Tour in the fall of 2019 I did not have anything, but I left that tour with a real estate agent, resources for grants and tons of new information that made my homebuying experience a breeze! I absolutely recommend attending the Trolley Tour and using the Live Baltimore website because they were both very helpful for me!"
Celebrating New Partnerships
Patti Click, a lending partner with PrimeLending, said she most enjoyed talking with buyers about their homebuying journey and putting faces to names.
"Especially wonderful was being able to meet in person many buyers I had only spoken to on the phone/emailed," she said. "I also really enjoyed our table placement. We were next to a real estate agent I had worked with in the past and it was a great chance to catch up⁠— as well as seeing other agents at the fair that I regularly work with."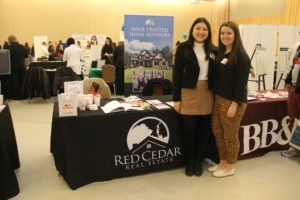 Red Cedar Real Estate's newest agent, Molly Reed, had past experience with Live Baltimore. She first connected with us while earning Continuing Education Credits at our Selling the City Class for the Greater Baltimore Board of Realtors. That connection has come full circle now that she's a member of a Live Baltimore partner brokerage.
"Live Baltimore was a great resource when I first got into real estate so it's nice to be part of a partner brokerage now," she said. "I love the City of Baltimore and I'm looking forward to helping people stay or move into this city."
February's event was Reed's first Trolley Tour and a little bigger than she was expecting.
"There is just such a great turnout today!"
The next Trolley Tour is scheduled for May 9 at Henderson-Hopkins School. For details and registration, stay tuned to the Live Baltimore events page.

Save your recommendations for later.
Get access to our Financial Incentives Tool.
Connect with a Live Baltimore staff member for a one-on-one consultation.
Get a free I ♥ City Life bumper sticker.