Tour Mount Vernon's Standard Building With Us!
Mar. 20, 2017
Neighborhood Tour: Mount Vernon
On the Final Friday of every month, Live Baltimore heads out of the office and into one of Baltimore's 278 neighborhoods. Each month, we love what we find. February was no different!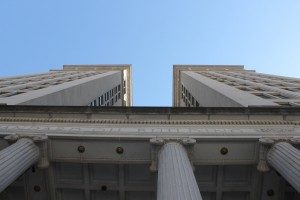 The trip from our Downtown office for February's Final Friday was a quick one—taking us only a few blocks north to the historic Standard building on Saint Paul Street. The structure's unique blend of expertly maintained history and lovely, wide-ranging living options made for an exceptional outing.  
The Rockefeller family originally developed The Standard, which brims with 1920's era bronze, limestone colonnades, and detailed marble work. Formerly the headquarters for the Standard Oil Company, The Standard was rescued in 2002 and converted into apartments now known as The Residences at the Standard.  It is now on the National Register of Historic Places.  
Our tour began in the building's expansive lobby, boasting unique light fixtures, historic clocks, marble walls, and friendly, welcoming staff. We saw residents enjoying the convenience of the business center and the comforts of the resident lounge in the Rockefeller Room— a gorgeous space with towering bookshelves, mahogany-lined walls and even complimentary coffee!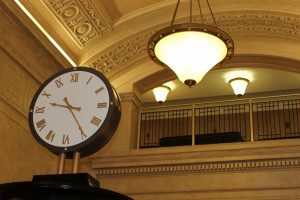 From there, it was on to explore the wide variety of residences: studios, one and two-bedroom luxury apartment homes, and multi-leveled lofts—all currently leasing. They featured towering ceilings, premium hardware, spiral staircases, and incredible views of the Inner Harbor, Downtown Baltimore and the Chesapeake Bay.
With utilities included, a great gym, and the nicest laundry room we've ever seen, The Standard provides a comfortable, convenient living option in the heart of Baltimore!
Interested in learning more about the apartments at The Standard? Click here. You can read more about the Mount Vernon neighborhood on our neighborhood page and see a full photo tour on Facebook. Want more info? Get in touch at 410-637-3750 or info@livebaltimore.com.

Save your recommendations for later.
Get access to our Financial Incentives Tool.
Connect with a Live Baltimore staff member for a one-on-one consultation.
Get a free I ♥ City Life bumper sticker.