Fall 2019 Trolley Tour: Baltimore Polytechnic Institute Recap
Oct. 1, 2019
Trolley Tour
Our Fall Trolley Tour drew more than 350 potential homebuyers through the doors of Baltimore Polytechnic Institute.
Live Baltimore's Trolley Tour is a three-part event of which a tour of Baltimore City neighborhoods is just one piece of the puzzle. Participants at all stages of their homebuying journey attend to learn about buying a Baltimore City home, meet with exhibitors in the City Living Fair and tour Baltimore neighborhoods. The Trolley Tour is also a qualifying event for the city's $5,000 Buying Into Baltimore incentive. Read on to see what some of our participants had to say about the Fall Trolley Tour!
Exploring Neighborhoods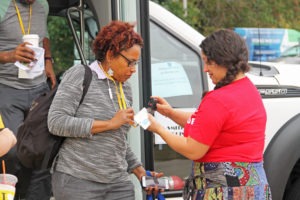 Yvonne B., of Remington, said she was already considering neighborhoods around this season's Trolley Tour when she found out we would be touring North Central Baltimore. The Trolley Tour gave her a deeper dive into some of the areas she had been looking in.
"I'm looking to see what other areas exist that I may not know of am and looking forward to seeing what Live Baltimore shows me [on the tour]," she said before hopping on the bus.Trolley Tour
The tour portion of the Trolley Tour event went through Medfield, Woodberry, Hampden, Wyman Park, Remington, Charles Village, Old Goucher, Charles North, Greenmount West, Barclay, Abell, Oakenshawe, Tuscany-Canterbury and Hoes Heights.
Tour guide and longtime volunteer Gina C. said the participants on her bus tour were receptive, excited and attentive.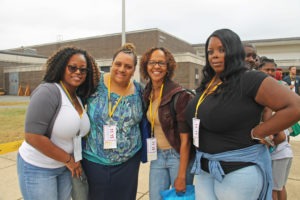 "I've done this event so many times but the people were particularly receptive today," she said. They had good questions about tax credits and historical neighborhoods. They also loved the different neighborhoods and local spots I made sure to emphasize."
We could not possibly put on the Trolley Tour without the help of trusted volunteers like Gina. Everywhere you turned on Saturday there was a smiling volunteer in a bright, blue shirt ready to answer questions.
Carol Wescott, of Charles Village, was excited to hear her neighborhood would be represented on the tour this time around.
"It's amazing how many young families there are outside with scooters and bikes playing together," she said. "It's really a great place to live."
Meeting Homebuyers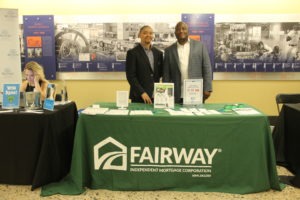 Malcolm Crane and Donny Bayton, of Fairway Mortgage, attended the Trolley Tour for this first time as exhibitors.
"It's been a great event," Malcolm said. There were so many more people than I expected. I love the enthusiasm for Baltimore and I'm meeting a lot of new people that are motivated to buy a house.
Donny added, "We've talked to so many people and are just looking forward to following up."
Berkshire Hathaway real estate agent Cheryl Youngbar said she was pleasantly surprised by the volume of great conversations she had with potential customers excited to buy in Baltimore.
Many people she'd spoken with had come from out of town or out of state to attend the day's event.
"It's really cool to be able to show people what Baltimore has to offer. We have some great communities, and it's such a great melting pot of neighborhoods." 
The next Trolley Tour is scheduled for Feb. 1 at Morgan State University. Event registration is currently open.
Save your recommendations for later.
Get access to our Financial Incentives Tool.
Connect with a Live Baltimore staff member for a one-on-one consultation.
Get a free I ♥ City Life bumper sticker.